We have designed a unique and distinctive office building for Holiday Extras to provide additional capacity to their campus headquarters and support their future business needs.  The diverse interior fit-out design will drive business innovation and provide a highly effective workplace promoting an agile, fluid and collaborative approach together with areas to support a more contemplative and focused work.  The new building is an amazing office space and will complement their existing adjacent headquarters which was designed by WAM in 2003.
BCO Awards Shortlisted 2019
RICS Awards Shortlisted 2019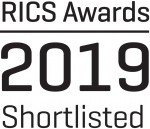 Click below to watch the time-lapse movie of the construction.